Headcount of killed & injured continues in Mumbai I-T, Customs & Excise offices but Revenue Boards yet to react to the tragedy
By TIOL News Service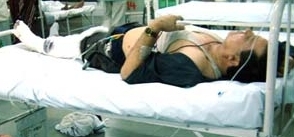 MUMBAI, JULY 12, 2006 : IT is more than 22 hours since the tragedy of monstrous dimension struck the financial capital of India. Though more than 170 lives were lost, and professionals of various private concerns faced the brunt of serial blasts in the local trains in the city, the Central Excise Commissionerate, Thane II, has turned out to be the worst hit by the disaster. It has lost two of its excellent officers of Inspector-rank.

Although the headcount continued till the last call TIOL made to various offices in the Income Tax, Central Excise and Customs Commissionerates, two deaths have been confirmed. The victims are Samant and Shashi Shekher. Samant is survived only by his wife and a baby daughter. He did not even have the shelter of parents as they had left for heavenly abode long back. He also did not have any relatives in the city. In case of Shekher, he is survived by his wife and two toddlers. His brothers are well-placed and were expected to take possession of the body for cremation this evening.

Besides these two, five more officers, including Superintendents, are reported to have sustained injuries of various degrees. One officer Mr Sawant is learnt to have suffered serious injury to his hearing power and, it appears that his hearing is badly impaired.

On the Customs front, three officers of Superintendent-rank are learnt to have been injured. One is from the Customs (Preventive) and other two from Customs House.

On the Income tax front, three officers are so far learnt to have been badly injured. One is Assistant Commissioner and other two are ITO and Inspectors. The efforts are on from the administration side to trace out more if any.

It is learnt that Commissioners of Central Excise have been individually trying to trace out their officers and find out whether all of them reached home last night. Since attendance is thin today and the residence numbers are not handily available, it is indeed taking time to know the whereabouts of all the officers. A senior officer told TIOL that by evening, they may be able to count the last head.

Meanwhile, senior officers in the Commissionerates have visited hospitals where these officers were hospitalised and also shifted them to private nursing homes from govt hospitals for better care. Commenting on the tragedy of gigantic proportion one Commissioner said that he had gone to see the officers in the hospital, and after seeing them in battered condition, he could sense the impact of nonsensical and devilish work of terror outfits.

Meanwhile, one Chief Commissioner of Central Excise has appealed to all staff to help out the family at this moment of grief and support them in whatever way one could. The Chief Commissioner of Customs (Preventive) is also learnt to have visited his officer shifted to a private nursing home.

Even as field-level officers have been making all efforts to bring some succour to the families of victims of the tragedy, the CBEC appears to be caught in the internecine war of who should be Member (P & V)! The charge reshuffle orders were changed twice yesterday. It is high time the charge of Member (P & V) is rechristened as Member (HR) in both the Revenue Boards, only then they would perhaps treat their officers as 'resource' rather than only 'personal personnel'! At this moment of grief, both the Boards should have taken initiative to lend a human touch to the families of their officers. And it could have been done by sending a special emissary to Mumbai to take stock of the situation and announce some monetary relief to the families from the Welfare Fund.
Sub: APPEAL TO REVENUE BOARDS

This is high time for CBEC and CBDT to make extraordinary efforts by lending a helping hand to the affected officers' families in every possible manner at their disposal. These middle level officers belong to the cadre which has been treated as "BACKBONE OF REVENUE" for the last 50 years. The Chief Commissioners' appeal to the staff to help the needy is likely to produce tremendous positive results. However, the best course for the authorities will be to ensure security of bread and butter for the deceased officers' families by taking speedy action in giving employment to their dependents within the shortest possible time. This action may give enough strength to the aggrieved families to bear with irreparable loss of their loved ones and may also boost the morale of the working officers.


From: S.C Sharma



Posted by satish sharma