In an island of Excellence with a Brihaspati as Chieftain!
JULY 19, 2010
By Vijay K Kumar, Editor-In-Chief, TIOL
"WE do have a small number of dynamic and outstanding law schools, but I am afraid they remain islands of excellence amidst a sea of institutionalized mediocrity." – Prime Minister Manmohan Singh.
Recently, I had the great honour of visiting the most excellent island in India and chatting with its scholarly Chief. A dull Saturday afternoon turned into an exhilarating experience after my colleague Santosh Hatwar and I stepped into the hallowed precincts of the National Law School of India University to meet Prof. R. Venkata Rao, the Vice Chancellor of this glorious institution. We were bowled over by the warmth and humility with which he invited us into his office.
Dr Rao is a fountainhead of knowledge, and here I was, sitting before him, basking in his radiance. As Oliver Goldsmith wrote, "And still they gazed, and still the wonder grew; That one small head could carry all he knew". It is not exaggerating to state that his association with this eminent institution will be enriching for the budding talents that will bloom into gifted lawyers five years down the line.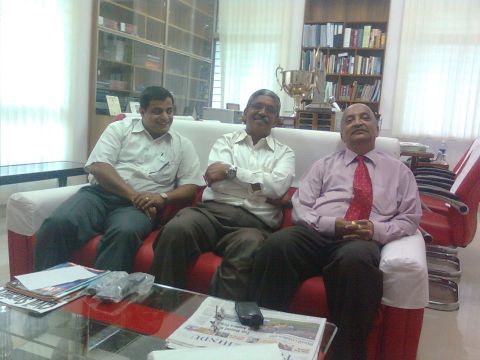 The Vice Chancellor himself took us on a tour of the campus. Outside his office, he glanced at the panel etched with the names of the alumni and commented that every one of them had made a mark in their chosen fields. While one is currently the Vice President of the World Bank, another is a part of the elite National Investigation Agency team, which recently interrogated the 26/11 Mumbai terror suspect David Coleman Headley in the US of A.
"Empires of the future are the empires of the mind", said Winston Churchill. While a majority of us are aware that NLSIU offers a five-year B.A. LLB (Hons) program, LLM programs in various disciplines of contemporary relevance, MBL through the distance education mode, it must be noted that it is also a hub of various unique research centres headed by eminent scholars. Prominent among them are Centre for Child and the Law, Centre for Women and the Law, Centre for Environmental Education, Research and Advocacy, Centre for Intellectual Property Research and Advocacy, Centre for the Study of Social Exclusion, National Institute of Human Rights, Centre for Outreach Programs, to name a few.
Our first stop was at the Centre for the Study of Social Exclusion (CSSE). It was founded in 2008 through an initiative of the University Grants Commission and Government of India, in association with NLSIU. We were informed that CSSE promotes interdisciplinary research on the varied forms of social marginality and exclusion in India. The objective of CSSE is to promote and encourage interdisciplinary research on the dynamics of social exclusion so as to assist law and policy makers in the preparation and critical evaluation of legislations and policies pertaining to socially excluded communities.
From CSSE we moved to the Centre for Child and the Law (CCL). CCL, which was established in the year 1996, was to further the vision of NLSIU to marry legal expertise with the social sciences, and was a spinoff of the preliminary work undertaken in collaboration with UNICEF. One of the important objectives of CCL is to deepen perspective and promote capacity building on child rights and to integrate modules on child rights in the curricula of various professional courses, which may further contribute to the development of a comprehensive legal framework for children through a Child Code.
Then, we proceeded to have a glimpse of one of the modern and hi-tech lecture halls, which are wi-fi enabled to facilitate the interaction of students with legal luminaries across the globe, while they sit in the cool confines of their classroom.
Before we moved out of the famed quadrangle, we got a glimpse of the illustrious Moot Court Hall named after Justice Hidayatullah. The students of the Law School hone their skills in advocacy through moot court examinations as a part of their curriculum and also by participating in various national and international moot court competitions. We were informed that all the proceedings in the moot court hall are recorded and played back to the students for fine tuning their skills and to help them improve their performance the next time around. At this juncture, it is pertinent to mention that students from NLSIU won the prestigious Manfred Lachs Space Law Moot Court Competition in the year 2009. Some of the past winners of this exalted competition include students of George Washington University, USA, National University of Singapore, and George Town University, USA.
Thereafter, we moved to the Centre for Outreach Programs. We were informed that under the banner of outreach programmes, NLSIU conducts a number of training and interaction programmes for industry and services such as Indian Administrative Service, Indian Police Service, Indian Postal Service, insurance sector, and banking sector. These programmes are sponsored by the respective departments of the Central/State Governments and the industries. These programs are held in the training centre located on campus, with state-of-the-art conference facilities and boarding and lodging facilities for guests.
Our next stop was the modern library - Shri Narayana Rao Melgiri National Law Library - established with an endowment from Mrs Sudha Murthy, Chairperson of Infosys Foundation. The precincts of the library were awe inspiring. The facilities extended to the future legal luminaries are indeed commendable. The library has an impressive stock of reference books and national and international law journals. We were also informed that the library provides exclusive space for students participating in national and international moot court competitions to brush up their legal knowledge and skills. The library is the heart and soul of any educational institution and determines the greatness of that institution. And this particular library is so designed that even without power, there is ample natural lighting. "Education is not the filling of a pail, but the lighting of a fire". In NLSIU, this fire is lit in the library. NLSIU also publishes in-house journals under the stewardship of eminent students of the Law School forming a part of the Student Bar Association, ably guided by their professors. Seneca once said of the teachers thus, "even while they teach, they learn." This is true of the distinguished faculty of NSLIU. The Law School also has various in-house publications that will come in handy to the legal fraternity of this country working in diverse fields of law.
Prof. Rao explained that this elite institution has been attracting enormous talent from across the country and that in the recent CLAT 2010 examination, around 10,000 students elected NLSIU as their first choice of law school. From my personal experience, I can only say that the able guidance of Prof. Venkata Rao will surely enrich the learning experience of the students of this Law School. As Henry Brooks Adams once said, "A teacher affects eternity; he can never tell where his influence stops." Such is the sphere of influence of Prof. Rao; it extends into eternity.
As we went around the campus, Prof. Rao affectionately greeted everyone we came across, from cook to student to professor. He knew every one of them by name, and he had something to say about every one of them to us.
NLSIU is ranked foremost among Law Schools in India and is often referred to as the Harvard of the East. Prof. Rao envisions a day when Harvard will be called the NLSIU of the West.
Sometimes a great teacher brings status and respect to the university and most often, the university grants status and respect to the vice-chancellor. In the case of NLSIU, this equation is reciprocal.
Santosh's rating of my talents went up very high after he came to know that I had been a student of Prof. Rao. It was a great day for me to visit my teacher who now heads a great university, but remains the great teacher that he always was.
For me, he is like Vasishta Vama Devadhi Vandita ........... Mahapanditha!