First Meeting of the GST Council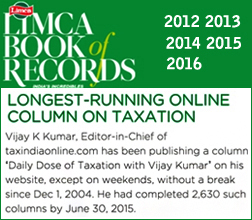 TIOL-DDT 2936
23 09 2016
Friday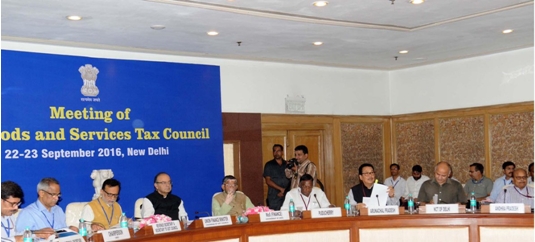 THE GST Council had its first meeting yesterday with a discordant note from Kerala Finance Minister Dr. Thomas Issac who found fault with the agenda and intimation about seating arrangement. He found it bureaucratic, undignified and arbitrary.
For more details please see our TIOL - COB(WEB) - 520
A very concerned famous consultant mailed me, "our crusade with the use of the word "concerned" will have to continue in the GST regime I suppose."
Concerned supplier: The Model GST Law has even defined the Concerned supplier as "the expression 'concerned supplier' shall mean the supplier of goods and/or services making supplies through the operator."
Section 43C is very much concerned. Read the following provisions:
(5) Any amount collected in accordance with the provisions of this section and paid to the credit of the appropriate Government shall be deemed to be a payment of tax on behalf of the concerned supplier and the supplier shall claim credit, in his electronic cash ledger, of the tax collected and reflected in the statement of the operator filed under sub-section (4), in the manner prescribed.

(6) The details of supplies and the amount collected under sub-section (1) during a calendar month, and furnished by every operator under sub-section (4), shall, in the manner and within the period prescribed, be matched with the corresponding details of outward supplies furnished by the concerned supplier in his valid return for the same calendar month or any preceding calendar month.

(9) The concerned supplier shall, in whose output tax liability any amount has been added under sub-section (8), be liable to pay the tax payable in respect of such supply along with interest, at the rate specified under sub-section (1) of section 36 on the amount so added from the date such tax was due till the date of its payment.
They can call for information from the concerned persons. Read Section 119:
119. Power to collect statistics (1) The Board/Commissioner, if it considers that for the purposes of the better administration of the Act, it is necessary so to do, may by notification, direct that statistics be collected relating to any matter dealt with, by or in connection with the Act. (2) Upon such notification being issued, the Commissioner, or any person authorised by the Commissioner in this behalf may call upon all concerned persons to furnish such information or returns as may be specified therein relating to any matter in respect of which statistics is to be collected.
Interestingly, the concerned persons who wrote the law were not totally unaware of the meaning of 'concerned'.
Under Section 80, an opportunity is to be given to the person concerned.
As per Section 42, where more than one place of business is specified in the certificate of registration, the accounts relating to each place of business shall be kept at such places of business concerned.
The GST Council should seriously consider appointing an English teacher.
Refund of Terminal Excise Duty (TED) under Deemed Exports where Duty has been paid from CENVAT Credit and ab-initio waiver is not available
PARA 7.03 (c) of FTP 2015-20 provides for refund of Terminal Excise Duty if exemption is not available. The Para 7.05 (ii) of FTP 2015-20 states that supply of goods which are exempted ab-initio from payment of Terminal Excise Duty would be ineligible to get refund of TED.
The Policy Circular No. 16 (RE-2012-2009-14) dated 15.3.2013 (DDT 2067 - 18.03.2013) also while specifying the categories where ab-initio exemption is there, specified that no refund of TED should be provided by RAs of DGFT/Office of Development Commissioners, because such supplies are ab-initio exempted from payment of excise duty.
DGFT observes, "Even though there was ab-initio exemption from payment of TED for supplies of EOUs, some firms were trying to get refund of TED, paid in many cases with accumulated CENVAT credit. This amounted to encashment of the accumulated CENVAT credit by way of TED refund under deemed exports, wherein no TED was required to be paid in the first instance.
This lead to a certain position being taken also regarding the refund of TED in deemed exports cases where no such ab initio waiver existed and the duty had been paid using the CENVAT credit, on grounds related to the permissibility of refunds of TED paid through CENVAT Credit. Some RAs had also denied the refund of TED in such cases. There were representations from trade and industry on this arguing that they have all along been getting such refunds."
DGFT examined the issue in consultation with Department of Revenue and has accordingly clarified that the refund of TED as per FTP, subject to all other conditions, shall continue to be available where the ab-initio exemption was not provided and duty had been paid using CENVAT credit. However, DOR has advised that necessary safeguards should be adopted to ensure that the TED is not already claimed (or shall not be otherwise claimed) as refund in any other manner, such as area based exemptions.
It is reiterated that no refund of TED shall be allowed where ab-initio exemption was there, as already specified in the FTP.
DGFT Trade Notice No.17/2016., Dated: September 22 2016
Setting up of 'Customs Clearance Facilitation Committee' (CCFC) for Land Customs Stations and Inland Container Depots
Customs Clearance Facilitation Committees are functioning at each sea port and airport tasked with the responsibility of ensuring expeditious Customs clearance of imported and export goods.
With a view to have similar administrative arrangements for facilitation of trade in the Land Customs Stations, CBEC has decided to set up CCFCs in the following Commissionerates having jurisdiction over the various Land Customs Stations,-
(i) Commissionerate of Customs (Preventive) Amritsar;

(ii) Commissioner of Customs (Preventive) Kolkata;

(iii) Commissioner of Customs (Preventive) Patna;

(iv) Commissioner of Customs (Preventive) Shillong.
The CCFCs will also be set up in the Commissionerates having jurisdiction over the Inland Container Depots.
The terms of reference for the CCFC will be as follows:
(i) Ensuring and monitoring expeditious clearance of imported and export goods in accordance with the timeline specified by the parent Ministry/Department concerned;

(ii) Identifying and resolving bottlenecks, if any, in the clearance procedure of imported and export goods;

(iii) Initiating Time Release Studies for improvement in the clearance time of imported and export goods;

(iv) Having internal consultations to speed up the clearance process of imported and export goods and recommending best practices thereto for consideration of CBEC / Departments /Agencies concerned; and

(v) Resolving grievances of members of the trade and industry in regard to clearance process of imported and export goods.
The CCFC shall meet once a month or as considered necessary by the chair.
Board wants the Chief Commissioners concerned (I am blessed, for once Board has used the word 'concerned' correctly.) periodically review the working of the CCFC and its impact on reducing delays in the Customs clearance time of imported and export goods and in resolving related trade grievances.
Circular No. 44/2016 - Customs., Dated: September 22 2016
FTP - Merchandise Exports from India Scheme (MEIS)
DGFT has made additions/amendments in Table 2(containing ITC(HS) code wise list of products with reward rates of Appendix 3B under the Merchandise Exports from India Scheme (MEIS).
DGFT Public Notice No. 32/2015-2020., Dated: September 22 2016
Nuclear physics is much easier than tax law. It's rational and always works the same way.
- Jerold Rochwald
Until Monday with more DDT
Have a nice weekend.
Mail your comments to vijaywrite@tiol.in