Grit That Defied Odds – A tale of courageous Customs officers and money-making politicos!
Grit That Defied Odds
Authored by A K Pande, Former Member, CBEC
Published by Konark Publishers Pvt Ltd
Pages: 197
Price: Rs 400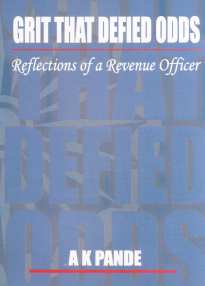 Reviewed by Shailendra Kumar, Editor
WHAT is the public perception about the Revenue field formations? Former Union Minister and Delhi's former L-G Jagmohan says that our civil services are by and large perceived as corrupt. And this is a perception which is common for all bureaucracies in the developing and underdeveloped economies. Mr Jagmohan further adds that such perceptions are not entirely unjustified. But there are also examples of officers who manage to come out of the groove, are capable of breaking loose from the straitjacket of wrong and dubious practices, follow their lights, choose the path of probity, despite being aware that this would put them in position of extreme disadvantage, who would rather be effaced than converted and above all, have the courage of their conviction, they deserve, if nothing, at least to be taken note of. But more often than not, this does not happen.
This is what Mr Jagmohan says in the Foreword of an about-to-release compilation of real life stories of daredevils of the Indian Customs, authored by former Director General of Directorate of Revenue Intelligence (DRI) and former CBEC Member A K Pande. This must-read compilation of 197 pages has been divided into four parts - First one deals with subjects titled 'Within The System'; Second deals in 'Rays of Hope'; Third talks about 'Courage's Sons', and the Fourth about the 'Changing Mindsets'. The period he has covered is between 1970 to 2002 when he retired from the Board.
Although interesting backgrounders have been detailed about the evolution of some of the economic laws like COFEPOSA and others and how closely he was an integral part of the evolution of this important piece of legislation during the Emergency and post-emergency period, but the most important and interesting segment of the book is Part III which details the acts of valour of some of the Customs officers during the heydays of smuggling in a story-teller fashion. Mr Pande has taken the pain of piecing together even small incidents which went into the making of these heroes of Customs who have become a part of folklore within the Revenue Services.
Let me ask this simple question to young recruits of the Customs and Excise services - Who is Daya Shankar? I am more than sure that the fresh batches of officers of all ranks will not know such important parts of glorious history of Indian Customs which had locked horns with resourceful and hi-tech gadgets-equipped smuggling syndicates, specialising in gold and electronic goods smuggling through the sea routes. Officers of today have to man and plug only the official route of imports to prevent frauds. But, only about 30 years back, the entire smuggling scenario was bone-chillingly scary in the country, with two unequals fighting serious battles. Customs being ill-equipped in terms of modern gadgets and infrastructure had unrivalled strength of only the law on its side. And other party was the fearsome community of smugglers. So lucrative and well-organised it was the then that it gave birth to an icon like Dawood Ibrahim - an international terrorist, and the force behind the serial bomb blasts in Mumbai. But, do the young generations of Customs officers know that one officer whom Dawood used to fear was Mr Daya Shankar! Once in an interview with The Illustrated Weekly, Dawood was quoted as expressing his wish to work with Mr Daya Shankar as an Inspector! So devastating was Mr Daya Shankar's preventive aura among the smuggling syndicates along the Gujarat coast those days.
And what were those exemplary qualities of Mr Daya Shankar? If you read the book you may find that none of them was outlandish and out of the world! But we all know that what makes a quality rare in today's world is the simple rule of being honest to one's duty and application of mind. Among the multiple inborn and acquired assets of Mr Daya Shankar, the two prominent assets were his honesty and absolute courage! He used to be perceived so incorruptible by the smugglers that none ever made even an attempt to send him a feeler. And courage was indeed in surplus in his case. In spite of lack of infrastructural support and overt departmental back-up in the interiors of the coast, he would lead his team of daredevils in a slow-moving dhow to intercept the gold-laden dhows coming from Dubai. Undeterred by the fact that the smugglers' dhows had the advantage of getting tips from Dubai through satellite mobile phones, he used to chase and trap them in the deep sea rather than the coastline where the consignments used to disappear in small lots.
Similarly, let's ask the young Customs officers about an officer called Costao Fernandes? Who was he? What did he do? What is that Supreme Court judgement in which he was instrumental, and that landmark judgement came as a shield to the officers in the Government, honestly discharging their duties. Any idea about B G N Iyengar, Anil Gupta and S N Dasgupta? There are many more examples of courage which Mr Pande has culled together and detailed them in small but highly engrossing stories.
The author has also spelt out his experience with the top pillars of our system - the political masters, and has hinted that at least three Ministers of State who were in charge of the revenue department ordered transfers in exchange for ... you guessed it right!
"A majority of them tinkered with the system for extraneous considerations and were insensitive to the damage that this caused to the system. At least three ministers of state, in charge of the revenue department, abused their positions and power in matters of postings and transfers and interfered even at the junior levels for monetary considerations."
"One of them served in the early eighties… The other two ministers of state served in the late nineties. An effective tool of administration and preventive vigilance was converted by them into a money making device."
But Mr Pande is all praise for Madhu Dandavate , V.P. Singh , Manmohan Singh and P. Chidambaram and minister of state Anil Shastri.
Overall "It must be said in fairness to all the Finance Ministers of India … that they had maintained the dignity of their office and never misused their power."
Ministers alone are not the culprits as Pande finds that "senior bureaucrats, including some at the highest levels had no qualms in destroying the system so long as it helped them to secure their positions or get a particular post or some post-retirement assignment or even a couple of months' extension. They are as guilty of destroying the system as the politicians".
Some politicians are in fact good as he discovers, "There are, however, some exceptional politicians with integrity both in and outside the government. It is heartening to see some of them take a principled stand against corruption.
There are many more interesting insights Mr Pande wants to share with the serving officers, and I would like to recommend this book to all those officers who care for history.
Sub: A book the defies ordinary one

What a fine make out. The Author's illustrative and impeccable career should serve as an eye opener for all young recruits. Though could not finsh reading of the this enire treatise I can guess the Grit of the Author in penning this. The review is so nice that no one can ignore reading this bood. Kudos to TIOL for the review.
By,
M.RAM KUMAR


Posted by ramkumar ramkumar

Sub: Grits and Guts

The Author needs no introduction. Bold and informative review by the editor deserves loud applause.

For the generation to come, we needed such books. Confident that I am, it shall fill the void and be an interesting and inspiring reading for all those, who are in service or those who had served with pride, the prestigious revenue services.

It would be befitting to recall famous famous epitaph

"When You Go Home,
Tell Them of Us and Say,
For Their Tomorrow,
We Gave Our Today."

Braving the odds, we need guts to work silently, fairly and firmly. Need of hour is to increase the number of such a tribe, within the service.

For writing this book and treading untrampeled path Congratulations to the Author.
C M Sharma





Posted by C M Sharma

Sub: feedback

Though, I have not read the book, having reviewed the analysis, I am tempted to procure a copy on the weekend. Congrats to the author for bold disclosure, which is unlikely a civil servant or IRS officer ! I hope that many such officers write memoirs after retiring.


Posted by C M Sharma

Sub: time is still not changed

dear sir,

i am extremely moved to see a book written on the customs. i have worked in DRI as Intelligence officer, and i can very well understand the state of mind when working for the national integrity & security. DRI is a different kind of national security service job which has earned accolades from all over the world. More than motivation and training, what requires is to find right kind of people for the job. I am a fan of mr. pande and mr. daya shankar, though i have never met them but still they are my dronas. The Time has not changed. mischievous elements never be calm. today we need officers who love the country, honest, courageous, and never die spirit. Hope the book help bring out the grit & determination in the honest officers of the Customs Department. I do not work for the Customs now, but, as is well said, once a cop, always a cop. That's true for a DRI Officer also. Best wishes. - R. Subramanya, Advocate, Swamy Associates, Ahmedabad


Posted by jaikumar seetharaman

Sub: Much needed book for today

The review of the book has prompted to me place commendations to the author and more to exemplary heroes like Mr Daya Shankar and likes. It is their valour, integrity and extreme love for country have made them today adorable. Their discharge of duty is certainly more strenuous than Independent struggle which was waged by Mahatma Gandhi against Britishers. My suggestion to the MOF is that they should make this book a reference book when young officers are placed under training to impart the most needed qualities like valour, integrity and extreme love for country. At the same time the corrupt personnel should revisit their consciousness and retransform themselves into an example like Mr Daya Shankar. Better late than never.


Posted by prakash babu kodarapu

« More Discussions »