TIOL PROFILE
Taxindiaonline.com ("TIOL"), established in May 2000, is a reputed and FIRST Govt of India (Press Information Bureau) recognised ONLINE MEDIA and resource company providing business-critical information, analyses, expert viewpoints, editorials and related news on developments in fiscal, foreign trade, and monetary policy domains. Our business has enabled our growing audience and subscriber-base, comprising of multinational and domestic corporations; service providers such as lawyers, consultants, and accounting firms; Governmental ministries and departments; officials connected to revenue, taxation, and commerce; and a growing number of foreign users who are active or keen to do business with India, to have access to accurate, and understandable analyses of essential but otherwise complicated and difficult-to-obtain information.
TIOL's salient feature has been its ability to bridge ongoing communication gaps that exist between policymaking, policy interpretation, and policy application. We interpret, simplify, and effectively disseminate in-depth analyses of not only policies and notifications from the various fiscal departments of the Government, but also of precedent-setting tax and trade case judgments from the various courts and tribunals in the country. Due to the widening net of taxation and compliance, ongoing modifications in trade policies, and onerous penalties for non-compliance, the durability of our core business proposition continues to be strengthened. Our business is positioned to grow in tandem with the urgent requirements of a rapidly enlarging audience not only in India, but abroad as well.
We are the acknowledged pioneers in our field, regarded as the legitimate online resource provider in our domain. Our credibility and leadership position has been steadily earned over almost twenty years since we commenced operations, and has been achieved through our proven ability to deliver resource information on a timely basis, along with meaningful editorial content which includes commentaries by a number of high-ranked experts available on TIOL Panel. Our approach emphasizes good ethics, characterized by its neutrality and fairness; this key ingredient has contributed to our loyal viewer-ship, our growing base of customers, and our overall business reputation. Much of our audience and customers believe, on account of the wide compass and depth of our coverage and services, that we are a large corporate entity - our public perception is indeed larger than our actuality.
Underscoring the value of our business premise is the fact that we have amongst the active users of our services, the Ministry of Finance which sets the fiscal policies for the country, The Ministry of Commerce which sets the trade policies for the country, the Reserve Bank of India which tailors the Monetary Policy, and the Big accounting firms, including the 'Big Four' who subscribe to our information packages and use these as a critical resource tool in order to effectively provide their services. Our services are used by key policy decision makers for inputs on policy-making; by corporate management for airing their grievances caused by flawed policies; and by journalists and other media companies as a research tool.
We pride ourselves as a dynamic, adaptive & learning organization. As individuals and as a company we operate within our values, on account of which we have enjoyed our almost two decades journey and have made an impact. Our values may be encapsulated as follows:
To build and maintain an environment of trust, everyone counts, everyone contributes;

To drive innovation to results through teamwork.

To form strategic relationships with partners who share our values, bring intellectual capital to support our vision and ideals;

Above all, always take the high road.
Editor-in-Chief: Vijay K. Kumar enjoys a substantial reputation in issues pertaining to indirect taxation. He has written several articles on Central Excise, Customs, Service Tax and allied matters for the Excise Law Times and for TIOL. He has also authored popular books in their field titled "Guide To Excise Valuation" and "Excise on Textiles". Prior to joining TIOL, his experience includes 22 years with the Central Board of Excise & Customs. He is a practicing tax lawyer and assists TIOL in handling client issues pertaining to legal tax consulting as well. He holds a Master in Arts, and Degree in Law. He also authored a Daily column, popularly known as DDT (Daily Dose of Taxation). His DDT Column found a place in the Limca Book of Records as the longest running Daily Column on Taxation for fifth year in a row.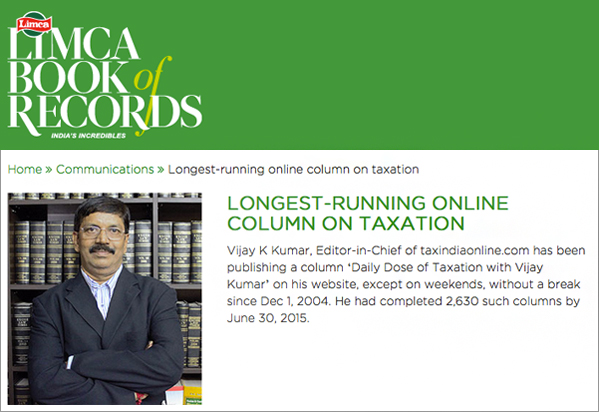 CEO & Founder Editor: Shailendra Kumar founder and CEO of TIOL started his career with The Indian Express Newspaper in 1990 and then moved on to The Economic Times where he worked for more than five years before taking the entrepreneurial route to launch TIOL, an idea based on business needs which he realized as a financial journalist. His vision was to create a knowledge-driven company which eased the burden on corporations & acted as a media watchdog for Indian tax and trade policies. He spearheads the business in all of its facets, including regular interactions with various policy makers and administrators, and managing the editorial and news gathering team at TIOL.
Mr. Kumar holds a Bachelor of Economics Honours degree from the University of Delhi, and has a Post Graduate Diploma in Mass Communication from the Indian Institute of Mass Communication. He is also a Law Graduate (LLB) from CCS University.
He was the recipient of the 2001 Outstanding Media Professional Award presented by the India International Professionals Forum. He is also the First Recipient of CERTIFICATE OF MERIT conferred by the World Customs Organisation headquartered at Brussels. He writes a much-awaited and widely-acclaimed weekly column for TIOL - The Cob(Web).
| | |
| --- | --- |
| | |
He has also authored a book "It's Raining Black! Chronicles of Black Money, Tax Havens and Policy Response" that talks about policy measures framed by the government to tackle the menace of illegal funds in the country and abroad. It also contains anecdotal incidents of action undertaken by various financial law enforcement agencies like the Central Board of Direct Taxes (CBDT), Enforcement Directorate (ED) and Department of Revenue Intelligence as part of their mandate. The book is a compilation of the articles he wrote on Black Money in his weekly column "The Cob(Web)" published every Thursday on Taxindiaonline.com. The book is published by LexisNexis and has a foreword by the Chairman and Vice Chairman of the Special Investigation Team, Justice (retd) M B Shah and Justice (retd) Arijit Pasayat respectively.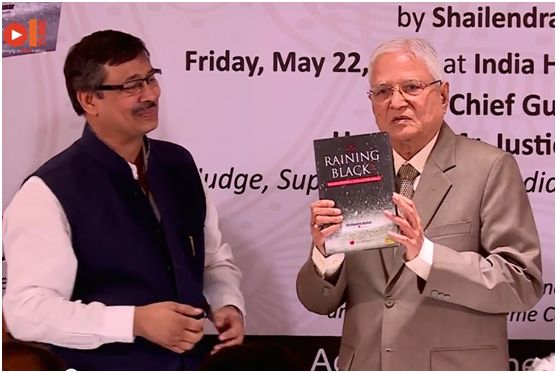 Justice MB Shah releasing the book
Consulting Editor: Sunilkumar A.K. Achuthan, a Chemistry Graduate with a Diploma in Business Management and a Law degree is a prolific writer and has contributed erudite articles for TIOL as well as ECR & ELT. As a faculty member at NACEN, Bhandup, Mumbai, he has delivered lectures on the intricacies of the Central Excise law for the past many years. He was also a prominent speaker at the workshops conducted by the Settlement Commission, Customs & Central Excise. With a deep understanding of the indirect tax law and more than two decades of experience in the department, Sunil brings with him immense analytical skills to add value to the editorial worth of TIOL.
Consulting Editor: Naresh Minocha, a veteran journalist, specializes in governance, polity, macro-economic issues, telecom, energy, chemicals and agriculture. He has been working as Consulting Editor with taxindiaonline.com since 2004. He writes and speaks with authority on any issue he picks up. In-depth research is his passion. In his over 37-years journalistic career, he has worked in different capacities for both Indian and foreign media organizations. He continues to enjoy endless, learning journey that he started during his university days in the seventies. He believes his quest to be a 'Know-All' is boundless.
International Trade Consultant: Dharmendra N. Choudhary, Washington DC based Foreign Trade Consultant at the largest US law firm on Customs and International Trade issues, GDLSK LLP, and a Vice-Chair of American Bar Association's International Trade Committee, advises on international trade issues including Anti-Dumping. Over the past decade, he has successfully argued several landmark and precedent-setting Anti-dumping cases before the New York based US Court of International Trade and Washington DC based administrative agencies, Department of Commerce and International Trade Commission. He has been extensively featured and interviewed in global print and electronic media. He is recognized as a thought leader on trade issues and a globally renowned expert on surrogate value issues that is critical to the outcome in Anti-dumping cases. His articles have been published in several reputed journals around the world, immensely benefitting the trade community. His writings have also been prominently featured by several foreign governments, evidencing the impact he has made on policy makers around the world. An ex-Additional Commissioner of Customs, he served the Department for 13 years in various capacities. He holds a B. Tech. Mechanical Engineering from IIT, Kanpur and LLM from New York University School of Law. He has contributed several articles to TIOL over the past 15 years and his extraordinary wide-ranging expertise is a significant value addition to our consulting team.
Technical Director: Shikher Singh has been with TIOL since its inception and manages the technology issues of the company, constantly interacting with external software and web solutions companies to improve functionality, interactivity and qualitative aspects of taxindiaonline.com and it's group portals. He holds a Bachelor of Commerce degree from the University of Delhi and IBM certification in eBusiness Application Programming. He has also attended several IT courses related to internet and software exports technologies.
Marketing Head: Richa Nigam has been with TIOL since 2005, and is responsible for coordinating marketing and sales for the company. She has contributed significantly to revenue growth by achieving sales through the development and implementation of focused marketing efforts. She holds a Masters in Commerce from Kanpur University and has an MBA from The Indian Institute of Planning and Management (IIPM), Delhi.
Deputy Head, Marketing: Shikha Choudhary made her entry into professional and competitive world of marketing with TIOL in 2007. During her long stint, she has provided leadership to the various wings of marketing designed for each revenue vertical. She has been a successful campaigner and motivator for the young lot that dominates the cutting-edge marketing in TIOL. She presently leads the ONLINE teams besides providing insight and inputs to other team leaders.